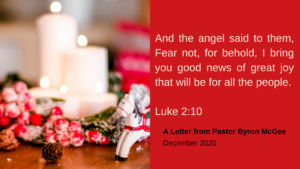 Dear Friend,
2020 has been a challenging year.
With all that is going on in the world, we need to know the assurance of God's presence now more than ever. The reassurance of God's presence is told to us in the name Emmanuel, which was used by God to tell us of His son Jesus which means "God with Us".
As we reflect on this remarkable story, it is impossible to miss the fact that: the one who holds the universe together enters our world as a baby helpless in a manger. The Word of God lay silent and speechless as an infant; the heavens cannot contain him yet he was carried inside a woman. In Jesus, we see meekness and majesty, mankind and deity, all in perfect harmony.
He was the creator who came into our world to redeem us from the wrong done on account of sin. He became the ultimate sacrifice. As King, He not only rescues but He reigns.
The truths of why He came to us, is hard to grasp, yet if we examine these truths they are simple enough for a child to understand. Christmas is the giving of God's gift of eternal life through the Lord Jesus Christ. It is not a gift to earn but one we freely accept.
Whether in person, online, or from afar, thank you for partnering with us in the Gospel.
With my love in the Lord Jesus and prayers for you and your family to have a blessed Christmas,
Pastor Byron  W. McGee